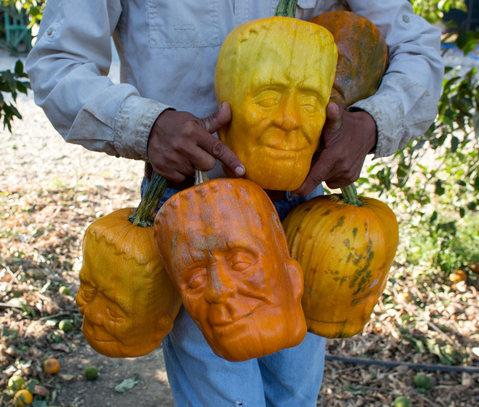 And for our final spooky story in this Halloween edition of the Bizarro New Roundup:
Until next time Bizarros!
---
---
by Tracy Vanity
The following three short video clips are real (or are they?) footage of creepy shit. This first video is an audio recording from the "Original Night Stalker" of California. To give you some background on him:
The Original Night Stalker is the moniker for an unidentified serial killer and rapist who murdered at least ten people in Southern California from 1979 through 1986 and sexually assaulted at least fifty women in Northern California from June 1976 to July 1979.

However, the connection to the Northern California assaults was not made until 2001, until which time the perpetrator was dubbed as The East Area Rapist.

The Original Night Stalker/The East Area Rapist may be considered one of the worst and most prolific "unapprehended" serial offenders in history. So far in the investigation, every named or investigated suspect has been cleared through DNA, alibi or other investigative means and methods.
With over 32 million views, you might have seen this one already but it's still a classic. It's an audio of the real exorcism of Anneliese Michel who was thought to have been possessed by at least 6 different demons. The Exorcism of Emily Rose is based on her story.
The pics of her looking all young, happy, and healthy while she begins to deteriorate into a living corpse, as the audio of her exorcism is playing, are effective to say the least.
So some teenagers in Argentina were just sitting around chilling and shootin' the shit when along comes a motherfuckin' gnome!
Full story here.
That video actually made me lol, especially after reading the top youtube comment:
what a bunch of pussies lol there's what three of them and they scream like a bunch of bitches at the sight of a really cool gnome like creature, they should have charged and bagged that motherfucker and he would have lead scientists to the secret underground gnome kingdom in the hollow earth where he would have introduced us to the gnome civilization with its many technological marvels like flying saucers and crystal based data storage and mithril coated artillery shells…..pussies -waste0fspais
Well said, waste0fspais. Well said.
Bonus: Here's a fun montage of creepy creatures caught on camera….
Be sure to be extra wary while venturing out into those spooky woods or streets alone, and be sure to have a camera handy! You never know what you might capture…
8 days until Halloween!
---